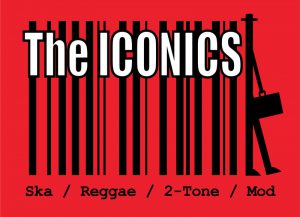 Some members of Special Kinda Madness also play as another band – The Iconics. The Iconics are a ska and mod covers band serving up a mix of high-energy covers from the 2-Tone era, ska classics from the earlier years and great mod tunes from the 60s and the revival in the 80s.
They play clubs, festivals and dedicated music pubs, and although based just north of London, they gig all over the country.
"Just caught last half hour of @The_Iconics set at Royal Oak, Stevenage by accident. Up there with best live bands I've ever seen" – Jon Pace (on Twitter)
We always try to make sure that the venues are full of happy customers as well.
"Had a fantassssstic night with you all last night. You were brilliant! We had a very happy pub full of people! Thanks again. Can't wait to have you back x"
Guys and girls of a certain age love our music, and the infectious ska beat gets everybody up dancing, even the guys!
"A fantastic night and a 'great work out' with all the boogying. Always a treat to see as many men doing their moves with the girls. Wicked."
So, what music do we like to play? We play all the high-energy 2-Tone ska hits from bands like The Specials, Madness, the Beat and Selecter, a mix of early ska tunes from the 60's and 70's including bands like Booker T, Dave and Ansell Collins and The Harry J Allstars, and the best mod tunes from both the 60s and the 80s revival, including the Small Faces, the Who, the Kinks, etc.
The Iconics are available for parties, festivals, scooter club nights, etc. We seem to be quite popular for 50th birthday parties for some reason! 
Give Mike a call on 07916 311396 or email
bookings@theiconics.co.uk
.
Tour Dates for The Iconics:
To receive alerts when new gigs are added, click here and click on 'Track Artist'.