Joon 'Toots'
Tenor Saxophone (dep)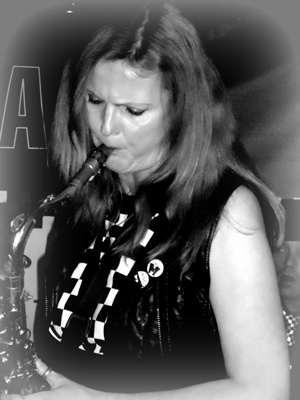 Joon's burgeoning career as a glamour model was cut horrifically short as a result of a bizarre accident involving a steam engine at the Hertfordshire County Fair. Bikini-clad and talking to a potential customer about Patterson's Cattle Growth Hormone Tablets, she was totally unaware of the out-of-control 15-ton steam engine hurtling towards her.  In some ways, she was lucky to survive, but she lost one of her arms below the elbow as a result.
Not one to give up, she sold her G- strings on Ebay and raised enough money to enrol herself on a HND Robotics course at polytechnic. Three years later she had completed her thesis on 'Robotics and the Saxophone Player'.
Financial support from the Page 3 Girls' Benevolent Fund enabled her to design and create a computer-controlled lower arm which attaches to a tenor saxophone. It is fully MIDI-enabled and will play in the style of all the famous sax players of the last 60 years. Joon's incredible invention allows her to this day to play an active part in Special Kinda Madness.
Audience members are asked not to press any buttons on her arm during the breaks.