I was lucky enough to be there when Special Kinda Madness played their first gig at the famous Horn music venue pub in St Albans last Saturday. Being a 2-Tone Rude Boy myself, I didn't want to miss out on seeing a Specials tribute band and a Madness tribute band on the same stage.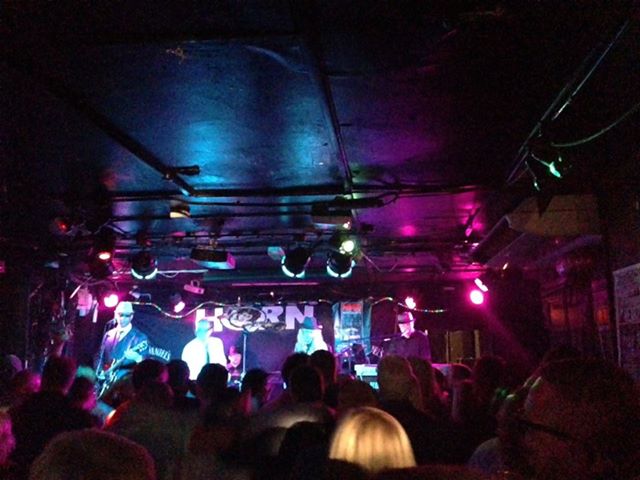 Spurred on by a near capacity crowd, they launched the show with their Madness tribute set. Opening with their version of Prince Buster's Madness, the audience were straight into skanking right from the off. Rattling through all the classics like My Girl, Baggy Trousers, Bed and Breakfast Man and Shut Up, they even brought in a bit of classical music in the form of Madness' version of Swan Lake that featured on the Dance Craze album and film.
The classic tunes like Embarrassment, It Must Be Love, Our House and House of Fun had the entire audience singing along. The set was brought to a frantic close with highly-charged renditions of One Step Beyond and Nightboat To Cairo featuring their fantastic sax player.
After 20 minutes to recharge the batteries and cool off (for both the band and the audience), the band were back to do their Specials tribute set. Kicking off with the energetic Do The Dog, and following up with Rat Race, Do Nothing and the ever-popular Too Much Too Young, the lead singer took on the challenging task of being Neville Staple's Judge Roughneck in the Specials' comic song, Stupid Marriage. This performance was a highlight for me.
Special Kinda Madness continued to cover the best of the tracks from the Specials' two classic albums with the raucous Nite Klub, the enigmatic and atmospheric Ghost Town, the singalong Message To You Rudy, and Monkey Man. Closing the set with the Specials' later version of the Toots and the Maytals Pressure Drop, I was with the rest of the audience shouting for more.
What better tune for an encore than Skinhead Symphony, the Specials' medley of Longshot Kick de Bucket, Liquidator and Skinhead Moonstomp? A full 8 minutes long and gradually cranking up the pace of the tunes until the crowd were skanking so fast that they looked like a room of Usain Bolts, the audience were left shattered and soaked to the skin … but incredibly happy!
It was a frantic and fitting end to a fantastic gig at The Horn. When are Special Kinda Madness back again? 🙂
This guest blog was submitted by Stuart Rice, a local regular gig-goer. Our thanks go out to Stuart for submitting this review.